Blind Lemon - Web Design South Wales
Posted May 2016 by Pip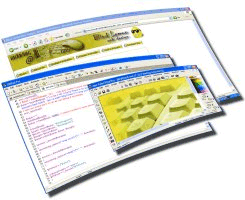 Blind Lemon (web design south wales) is a website design and web development company that takes a fresh and creative approach to websites. We are located near Brynmawr in South Wales but work with clients thoughout the UK.
All our design include a Content Management System (CMS) that allows you to take control of the content of your website. We also provide on-going support and help grow what we've designed; enabling you to get value out of us and your web presence.
Web Design Services
We specialise in a personal web design service with the emphasis on producing easy to use websites, optimised for search engines (SEO) that download quickly over the internet while remaining pleasing to the eye.
Using a large range of proven resources we reduce the time for production and incorporate features not normally found in designs at our price range.
All our new designs are compliant with the latest web accessibility standards and legislation helping to comply with the Disability Discrimination Act and enabling your site to attract the largest possible audience.
Our Webite Designs
Why not see some of our website creations in `Design Examples`, get some explanations of terms in our `Frequent Questions` section or read what present customers say about our service on our `Testimonials` page.
Removing the `Jargon`
Computer jargon & terminology too often used to confuse customers is removed enabling you to get a better idea of what we can do and to more easily share your ideas with us. The word `solution` isn`t in our vocabulary.
Kind Words
Pip has been a great help in setting up our website. He has listened to everything we needed and helped us to plan the best web site possible for our needs. Pip has shown us how to maintain and administer the web site with ease. Gwent Web Design has taken the time to ensure that we, the owners, of the web site are able to understand and take on the administration of the web site. Pip has been a great help in adding information and showing how to put in the bells and whistles to make this a great and interesting web site for all those who access our site. Thanks for all you have done and are doing Pip .
Nantyglo Communities First
www.nantyglocf.org.uk